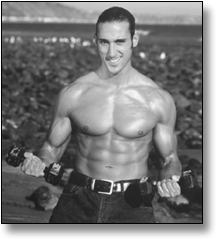 Fitness authority Paul J. Alessi, a personal Trainer based in Southern California, for 18 years has been a health instructor and life guide to many.

At a young age the former New Yorker developed an intense interest in a wide range of sports and how they relate to physical condition. Over the years Paul has gained a depth of experience that have surfaced in diverse activities from Amateur Boxing, coaching for New York youth sports teams, hardcore ice hockey for more then 20 years and kicking around that funny ball Europeans seem to think is a football, Soccer. All the while, Paul spent 19 years developing his bodybuilding and resistance training proficiency.

Paul's continual studies in different training methods give him the knowledge to work with a wide range of individuals from professional athletes to seniors through weight training, plyometrics and exercise bands to name a few. Paul is always on the move, he enjoys taking his clients on day hikes, outdoor stair climbing and beach training. He has dedicated life to helping others achieve their goals and he enjoys every minute of it. It's not just a work out, it's a life style that enables you to reach and maintain your fitness goals.

Apart from the above, Paul is certified in AFAA (Aerobics & Fitness Association of America) and frequently continues to supplement his education. Expressly Paul is completing his official certification through NASM (National Academy of Sports Medicine) and ACSM (American College of Sports Medicine).

Paul is actively involved in supporting numerous charities via providing training sessions at silent auctions to 5k walk/runs to name a few. Click here to view some of Paul's favorite Charities.

You can reach Paul via email at paul@alessifitness.com.
"A wise man ought to realize that health is his most valuable possession."
- Hippocrates